Lt.Kozlov is one of the four enemy commanders the player fights in during the weekly boss event in league of war. He can be fought directly or after defeating Lt.Mitchell.
Difficulty
Edit
Lt.Kozlov is mostly a pushover but in higher levels of the event he becomes more persistent and being better equipped.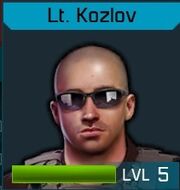 Ad blocker interference detected!
Wikia is a free-to-use site that makes money from advertising. We have a modified experience for viewers using ad blockers

Wikia is not accessible if you've made further modifications. Remove the custom ad blocker rule(s) and the page will load as expected.