The Major is the player's Commanding officer that gives out orders as well as offer rewards for being online or by mastering a certain campaign. She also serves as the tutorial instructor when players first bought the game then at the end of the tutorial she rewards the player with the Kullvero's Rage Tank.
As said above she serves as the player's commanding officer, she tasks the player to take down various terrorist organizations across the globe in the form of Campaign Missions and makes a brief appearance in the new boss event were she orders the player to destory Klassen's MegaTank.
Completing her tasks will result in getting silver keys, gold, cash even XP.
Appearance
Edit
The Major wears a Green beret on her head, has short brown hair and wears a suggestive looking officer's uniform with a bullet belt strapped across her hips.
She has one arm on her hip and the other holding a Handgun while having a serious look on her face.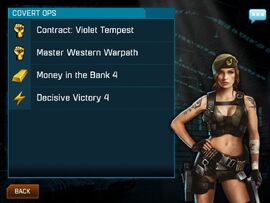 Ad blocker interference detected!
Wikia is a free-to-use site that makes money from advertising. We have a modified experience for viewers using ad blockers

Wikia is not accessible if you've made further modifications. Remove the custom ad blocker rule(s) and the page will load as expected.