The Provacateur is a Twin-Barreled Tank that can be obtained either by doing well in events or by getting out of the elite chest.
Close range, but extremely usefull for boss battles.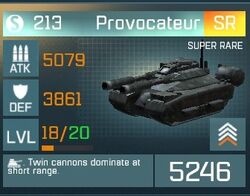 Supply Cost: $213
Offensive: 5,073
Defense: 3,861
Recharge: Slow
Rarity Types: Super Rare only
Ad blocker interference detected!
Wikia is a free-to-use site that makes money from advertising. We have a modified experience for viewers using ad blockers

Wikia is not accessible if you've made further modifications. Remove the custom ad blocker rule(s) and the page will load as expected.